You can top up your balance using BTC/LTC/BCH/DOGE/DASH in Payments section. To do this, follow the steps below:
go to Payments section
click on green button ADD MONEY TO BALANCE, located in upper right corner
after clicking on it, you will see a modal window with the choice of currency and the possibility to enter the amount of money
after selecting currency and specifying amount of money to be deposited, click on CREATE INVOICE button
the wallet for payment and amount to be deposited will appear
transfer money and click on I PAID button
after three confirmations of the network the money will be automatically credited to your internal balance and you will be able to buy our products and services
Tip
Attention!
The balance is replenished by the user himself in his personal cabinet (in the application). The entire process is fully automated and no outside help is required.
If you are approached with the suggestion to recharge your balance manually and to some third-party wallets, then it's very likely that it is a fraud.
Be vigilant and don't fall for tricks!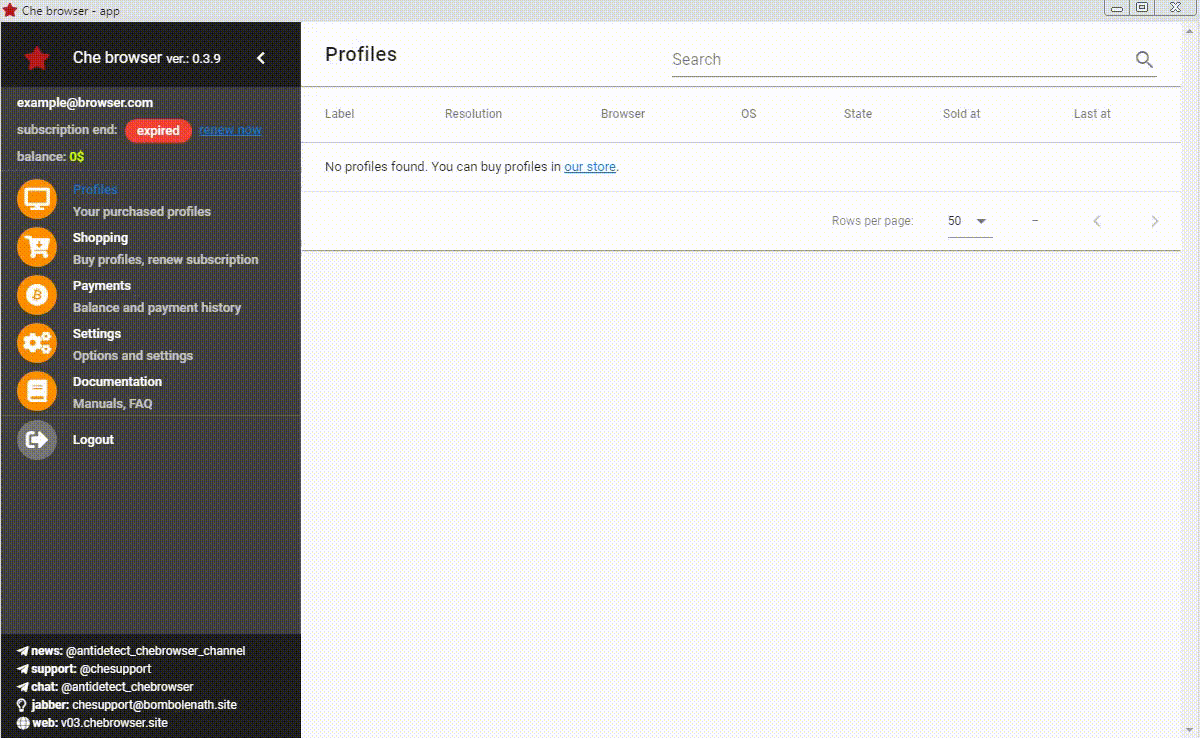 You can activate a promo code in the Payments section. To do this, follow the steps below:
Go to Payments section
Click on the blue button REDEEM PROMO CODE, located in the upper right corner
Once you click, you will see a modal window with a form for activating a promo code
In the Promo code field, enter promo code
Click REDEEM button
After activation you will get free subscription and a certain number of profiles. The denomination of the promo code may vary and is chosen by the partner who issued you the code.
Tip
Promocode can be activated only once and only until the first recharge!
All promo codes are free!
If you're offered to buy a promo code, it's probably a scam.
If our product is not suitable for you for any reason, we will refund you in full for unused profiles and the remaining/unused rental time of the product. Please note that if you have used/started the profile at least once, such profile is non-refundable. A refund is possible only if you have the secret phrase. If you have lost or forgotten it, no refund is possible! Our support may also ask you to:
confirmation by mail
wallet that was used for deposit
transactions
any time stamps on any actions
If there is any doubt that you are the owner of the account, we may deny you a refund or postpone the refund until we have fully verified ownership of the account.
Warning
Do not tell anyone the secret phrase except our support team!
Our support team contacts are listed below:
jabber: chesupport@bombolenath.site
Use these contacts and not others. Follow the link (in the case of telegram) or copy and paste the contact for jabber. When using the search for contacts in Telegram, there is a high probability to get on the fake/clone with a replacement of one or more letters.
If you are not sure that you are communicating with the real support service in Telegram, just re-visit the link above and then you will definitely get to the right chat.
We do not accept manual payment. All payments are made solely inside a personal account by the user himself.
Be vigilant and careful, always check with whom you are communicating!